Yoga balls vary in quality, do you know how to choose the best yoga balls in so many products? In addition to the size of the yoga ball, the material, the bouncing, and brand (WAVAR) are also important. This article will help you distinguish the quality of yoga balls. If you are a yoga lover, you may hesitate in choosing a yoga ball. Since the quality of yoga balls vary in the market, then this article is about buying tips when you buy a yoga ball.
What is a yoga ball?
A yoga ball is a great auxiliary tool for yoga practice. The yoga ball is a good fitness tool. Compared with traditional yoga. "ball yoga" is more interesting. It can be used to help exercise balance, enhance muscle control, and improve body flexibility and coordination. Add actions on the sphere to increase the difficulty. Using the yoga ball, you can also do a lot of exercises to stretch the body, not only to avoid muscle soreness, but also to massage. When the person is in full contact with the ball, it will massage the human body well to relieve tension. Start choosing your yoga ball.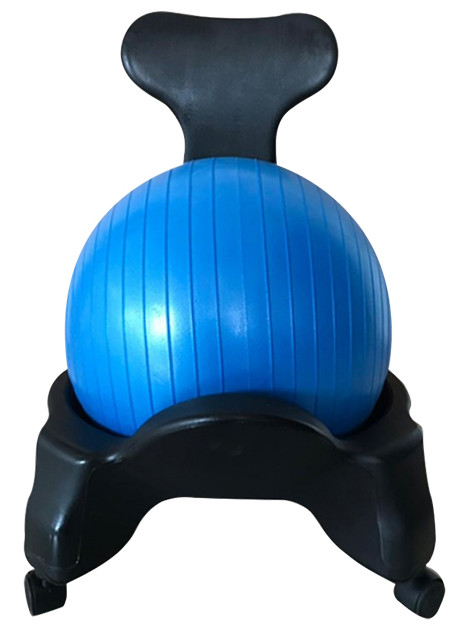 What are yoga balls made from?
All yoga balls are made from PVC material (Is PVC a good material) - "full name is "Polyvinyl chloride" (colloquial: polyvinyl, vinyl; abbreviated: PVC) which is the world's third-most widely produced synthetic plastic polymer (after polyethylene and polypropylene). ... The rigid form of PVC is used in construction for pipe and in profile applications such as doors and windows." But, if we see in detail, there are two materials of yoga balls on the market-- Explosion-proof material and pearlescent material.
Explosion-proof material:
Explosion-proof ball with high-grade explosion-proof PVC material, feels as soft as a sponge with the tire-like compression and flexibility and spring-like high elasticity. Generally they can withstand the weight of about 200kg. They are very safe and secure.
Pearlescent material:
The surface of the yoga ball made of pearlescent material is very smooth and has good reflective feature. The main material is PVC as well. However, in the process, only a small bit of pearlescent powder is added inside, and the thickness is a little thinner than the explosion-proof material. In general, we recommend the explosion-proof ball. The most obvious feature of the explosion-proof ball is the explosion-proof small points.
What make a good yoga ball?
Material
Of course, as we write in detail above. The high-quality yoga ball is made of safe, non-toxic and soft pvc material, which is soft and strong without odor when it comes in contact with the human body. Pay attention to see if there is a GS certification that has passed the TUV test. Don't buy inferior yoga balls at a low price. This inferior yoga ball often has a pungent plastic smell, and long-term use will affect your health.
Surface Rebound
Feel and do some intense bouncing to the yoga ball. When choosing a yoga ball, you can feel the surface of yoga ball. The surface of the fitness ball should be delicate, soft and high elastic. The better the feel, the better the foaming technology of its production process, and the smaller the foaming technology, the softer and more delicate the surface of the fitness ball.
Are yoga balls good for exercises?
As an interesting tool, yoga balls will help you forget time and fatigue. For those girls who like indoor activities, a yoga ball is a nice alternative and will save much house space. The soft and formless ball will challenge your every part of muscle in your body. So do not look down upon it. One thing you need to be aware is that some positions are really unstable, so, be sure to do it in a wide space.Yoga ball exercises can help improve joint flexibility, muscle strength and balance.
How to maintain it?
When pumping up the ball to a "eight degree full", which not only makes the ball more flexible, but also facilitates the clamping and grasping movements; it also prolongs the service life of the yoga ball.
Where to buy a yoga ball?
"Wavar" as a professional fitness products supplier, we provide various yoga balls with premium quality and low price. There are peanut balls, PVC balls, donut shape balls. (Go to Wavar yoga ball product page). Established in 2014, we have not only yoga balls but also many other products like weights, and yoga products. We are always not only committed to providing premium products but excellent customer services. Thus, if you fortunately choose us, be prepare we will surprise you. With our slogan: "Born for Fit", we will continuously provide the best products and design for fitness not only convenient, effective, but also affordable.