The standard barbell weight is generally 15kg or 20kg. The men's barbell is 2.20 meters long and weighs 20kg, and the women's barbell is 2.15 meters long and weighs 15kg. The standard barbell generally consists of three parts: a barbell, a barbell sheet and a clamp. There are types of barbell: standard barbell, and non-standard barbell.
Standard Barbell
It consists of three parts: a horizontal bar, a barbell plate and a clamp.
The barbell used in the Olympic competitions is international standard barbells. There are two types of barbells for men and women respectively. According to the regulations, the total length of the horizontal bars shall not exceed 2.20 meters for man and 2.15 meters for woman. The diameter of the horizontal bars is 0.028 meters, and the diameter of the largest barbell is 0.45 meters.
The weight and color of the barbell are as follows: 25 kg (red); 20 kg (blue), 15 kg (yellow); 10 kg (green); 5 kg (white), 2.5 kg (red), 2 kg (blue), 1.5 kg (yellow), 1.0 kg (green) and 0.5 kg (white).
Non-standard Barbell
The structure is the same with the standard barbell, the requirements of size production are not strict and high, the weight can be freely specified, you can also use stone pole in ancient times as an alternative.
In addition, there are also some special requirements, if you need to develop a certain part of the muscles, you can make various types of special barbells (such as flexural barbells, bow-shaped barbells and ring-shaped bells, etc.).
So now, how to choose barbell weight that fits you:
The right weight will help you hit your records effectively. So, there are tips. After warming up, slowly increase from a lightweight. For example, the first set of 15kg barbell press is very easy, then do with 20kg next time, but after trying 20kg, you still feel that there can be extra weight. How to decide the weight that suits you? In view of safety, you can do 8-12 rows using 22.5kg, after a period like a week after, you feel like it is not difficult to press, then challenge a more weighted one say 25kg.
To make it clear that how much does a barbell weight, you need to note that the plates are main weigh in a barbell.
So, many weight plates are there, and how much dose they weigh?
Rubber Covered Plate
The most common type of barbell in commercial gyms, and the most cost-effective type. Black plates are always used in the power zone. The barbell plates used in bodybuilding exercises like body VIVE are colorful. Rubber covered plates are more resistant to protect the floor than bare iron plates. Different weight has different diameters. And common weight specifications are 1.25kg (uncommon weight), 2.5kg, 5kg, 10kg, 15kg, 20kg, 25kg.
Iron Plates
The cheapest, high density, wear-resistant, but easy to break;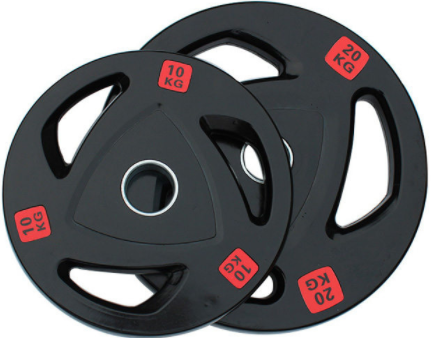 Different weight and diameters
Generally black/gray in color.
Common weight specifications: 2.5kg, 5kg, 10kg, 15kg, 20kg, 1.25kg(uncommon weight)
Rubber Plates
It can be used for weightlifting training and is slightly cheaper than weights in competition. The density is low, suitable for newbies.
It is more resistant to fall and more easily deformed than competitive weightlifting films.
Common weight specifications: 5kg, 10kg, 15kg, 20kg, 25kg
Olympic Barbell Plates
Manufactured according to IWF standard, for weight training & competition
The most expensive, color,
The anti-fall performance is the best, the barbell is often thrown off the top of the head in weightlifting, free fall.
Common weight specifications: 5kg, 10kg, 15kg, 20kg, 25kg
Steel Plates
Manufactured in accordance with IPF standards, for powerlifting training & competition
It is more resistant to fall than iron sheets-it is close to free fall when deadlifted and lowered
Wear resistance, high density, extremely thin
Common weight specifications: 5kg, 10kg, 15kg, 20kg, 25kg, there are also 50kg pieces, used for large-scale competitions and master training.
So, now you have an overall view of barbells'weight in your mind.