There are some keywords that yogis, yoga enthusiasts, young moms need to consider when picking a yoga mat such as non-toxic material, good traction, great elasticity, and so on. Wavar, as a fitness expert in manufacturing and exporting, would recommend you a cork yoga mat which will definitely meet all your requirements. Moreover, We have two types of cork yoga mats on sale: rectangle cork yoga mat and rounded cork mat. In this article, we list all features of a cork yoga mat for your reference and clear your doubts of the differences between rectangle shape yoga mats and rounded yoga shape mats.
Features of Cork Yoga mat
Advanced glue-free technology is adopted to produce a seamless mat of cork and rubber material, which is generally called a cork yoga mat by the public. Contents below list all features as a reference.
1. Reversible design. One surface is cork material. The other is rubber material.
2. Cork surface. Cork, as an eco-friendly material, is antibacterial, odor-free, chemical-free, and biodegradable. If you use a cork yoga mat for the first time, you will get a really different experience that sweaty hands will keep superior traction, which is totally different when you use TEP and PVC yoga mats. In addition, the antibacterial material will allow you just wipe away the sweat and safely leave after class.
3. Natural rubber material bottom surface. Rubber, a completely recyclable material, provides high density, great resilience to fully protect you when your bones push against the ground.
4. Excessive traction of cork and rubber assures your movements even when you are going through a hot & sweaty yoga session. It is perfect for rehabilitation, balance training, physical therapy, recovery from injury, etc.
5. Lighter than rubber yoga mats with multiple sizes are available on Wavar's website.
6. The perfect combination of rubber and cork makes this type of mat foldable and portable.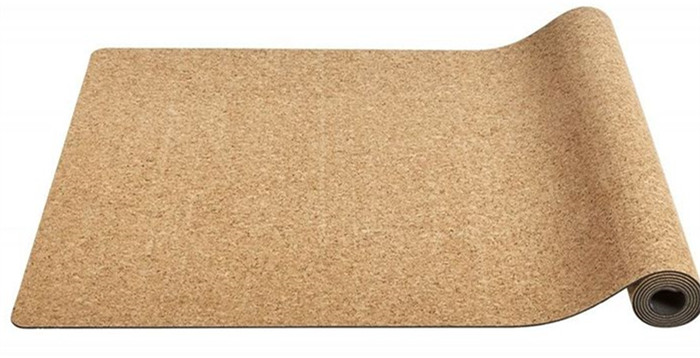 Rectangle vs Rounded Cork Yoga Mat
Rectangular is the traditional shape of yoga mats. According to the yoga stretching lines, rectangular yoga mats were produced to minimize the waste of material while providing yoga learners with enough space to practice yoga. What is a yoga stretching line? In fact, many yoga mats are printed with some lines on the surface. Some yoga beginners may confuse, but Yogis must know that they are yoga stretching lines that could help learners practice the right yoga poses scientifically. They were formed through years of professional yogis practice. With these lines, you can do up to 100 poses within a small yoga mat.
Then, rounded yoga mats were produced to meet different people's requirements. We also display the features for your reference.
1. Perfect for meditation. 60cm size is a perfect choice for a satisfactory price.
2. More space for creative yoga motions. Compared with a rectangular mat, a rounded yoga mat aims to give people more freedom to move around without repositioning.
3. Enough space for both children and parents. A large rounded yoga mat provides enough space for a parent-child interactive game. If possible, young moms can also join in to interact with their children when they taking yoga classes. A rounded cork yoga mat is recommended for a safe and healthy yoga practice.
4. A living room yoga mat.
In general, a cork yoga mat is the best choice for yogis, yoga enthusiasts, and also someone who has a long-term plan in yoga practice. Buying a cork yoga mat will cost you a lot, but definitely worth it. What is more, a circle cork yoga mat is the best for young moms and babies. In the end, we hope this article will be helpful.